Another season of TOPL is complete! First off, thanks to Jim for hosting this past weekend. We ended up with 37 players for the tournament, including a few out of town guests, and a few people that hadn't been out to any TOPL events before. Everyone had a good time, and we managed to have some good competition through the day.
We used the first 7 rounds as a basis for splitting into A and B divisions, and then reset the B players to their own tournament, while the A players kept their standings. After 10 more rounds, here's how things looked in A: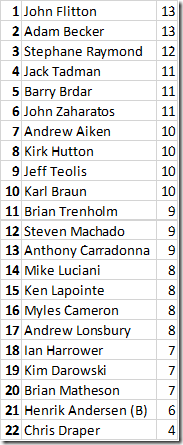 And after 10 rounds in B we had: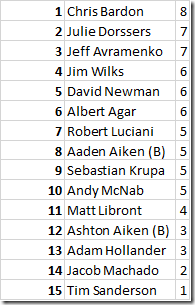 After a few tiebreakers, we had a 4 game playoff for 1-4 and 5-8 in each division. The final results for A division were:
Adam Becker
John Flitton
Jack Tadman
Stephane Raymond
Barry Brdar
Jeff Teolis
John Zaharatos
Kirk Hutton
And in B:
Chris Bardon
Julie Dorssers
Albert Agar
Jeff Avramenko
Robert Luciani
Sebastian Krupka
David Newman
Jim Wilks
Congratulations to all the winners! Final results should be on IFPA soon. This also wraps up the TOPL events for 2016, and we're off until the new season starts Jan 9. It promises to be another good year for pinball, with new games coming out, and new locations coming into the hosting rotation. Have a great off-season, and see everyone in 2017!