With the end of a TOPL season comes another TOPL playoff tournament, even though there was a little chaos around the date this season. Since we moved out of the way of the CNEPC tournament happening at the Ex next weekend, we ended up on the same weekend as the Buffalo Open, which was on the PAPA circuit, so some players had to choose where to go. Luckily, we still had 23 players for the finals, including some friends from the K/W area, and had a great day of pinball at Kim's place. A big thank you to Kim for hosting, and for making sure everyone was well fed all day!
Once we finished the first 7 match play rounds, we gave the players below the cut line the option of whether we ran a B division or not. Since we didn't end up with the required minimum number of players, we kept to one division, and paid out the top 8 spots there. The final results were:
1 Ken Lapointe
2 John Flitton
3 Charles Blaquiere
4 Adam Hollander
5 Kirk Hutton
6 Dave Smith
7 Les Kowal
8 Andy McNab
9 Andrew Aiken
10 John Clegg
11 Josh Zilberberg
12 Larry Perreria
13 Chris Bardon
14 Mark Foy
15 Mike Luciani
16 Chris Draper
17 Ryan Matheson
18 David Newman
19 Myles Cameron
20 Karl Braun
21 Kim Darowski
22 Henrik Andersen
23 Brianne Darowski
Congrats to all the winners! Here's Ken, Charles, and Adam with their prizes (not pictured, John Flitton):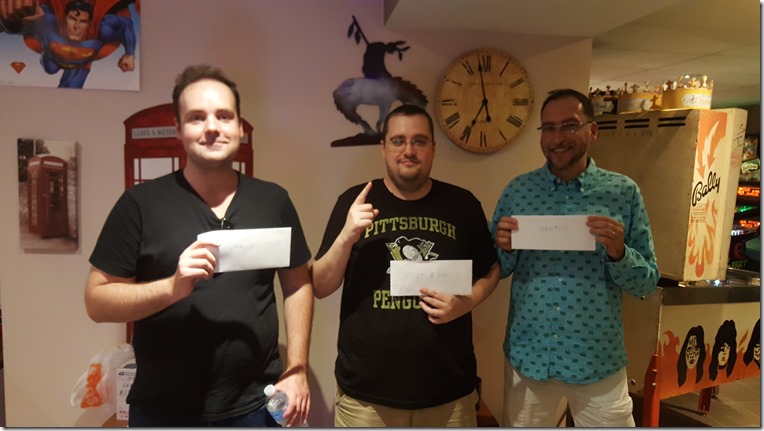 As usual, we're off tomorrow because of today's playoffs, but the next season starts up a week later at Nick's place. See everyone there for a brand new TOPL season!