Thanks to Luch for hosting playoffs this season, and also for supplying all the food and drinks for the day!  We had 34 players out for a solid day of pinball.  The new format of splitting A/B divisions seems to have worked well over the past few seasons, and we're continuing to refine how we're doing things.  This time it ended up being a reasonably clean split between A and B divisions, giving us 15 B players, and 19 in A.  After 17 rounds of qualifying (10 for B post-split), here's how things stood:
A:
B: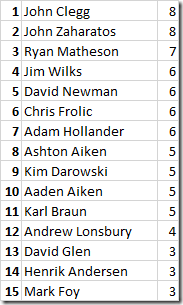 After the usual 1 game tiebreakers, we had 4 game playoffs to determine the final top 8, to give out cash prizes.  The top 8 in B were:
1.    John Zaharatos
2.    Ryan Matheson
3.    John Clegg
4.    Adam Hollander
5.    Chris Frolic
6.    Jim Wilks
7.    David Newman
8.    Karl Braun
And for the A division:
1.    Adam Becker
2.    Steve Machado
3.    Robert Luciani
4.    John Flitton
5.    Kirk Hutton
6.    Ken Lapointe
7.    Chris Draper
8.    Chris Bardon
Congratulations to all the winners-results should be posted to the IFPA shortly.
As usual, there's no pinball tomorrow, but we're starting up again May 1st at Kim's place.  Dates for most of the season have been posted already, and the last few weeks should be filled in shortly, so this is a perfect time to bring new people out to join TOPL.  Have a great week off, and hopefully we'll see everyone back for next season!