Welcome to another season of the Toronto Pinball League! Last night we started our third season for 2015, which is slated to run from now until the beginning of December. We've got some good stuff planned for the rest of the year, including the pinball machine giveaway at the end of season playoffs. Remember that it's an entry for every regular league night and playoff that you attended in the three 2015 seasons, so the more you come out, the more chance you have to win!
As always, thanks to Kim, our host, for opening up his home to us, and keeping everyone fed through the evening. We had three new people join us for their first league night, so welcome to Catherine, Phil, and Chris P-hopefully we'll see you out again soon! The scores for this week are up on the PAPA site. Only one week in, so there's not much to see yet, but several people are up in double digits.
This week we also had a mystery score giveaway, where the score whose last five digits were closest to the sealed value (this time 72163) won a TOPL shirt, courtesy of Eddie D'Orazio. This week's winner, pictured below, was John Flitton, who couldn't wait to show off his prize to the camera: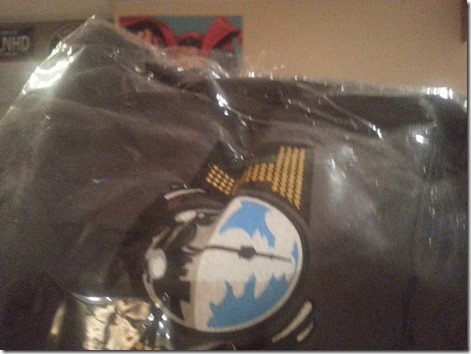 So congratulations John, and thanks again to Eddie for the donation. We'll be doing a couple more of the mystery shirt draws this season, so keep an eye on the website updates, and we'll announce it in advance next time.
Next week we're taking the stat holiday off, so have a good long weekend, and I'll see you at Luch's on the 10th. Also, good luck to everyone going to the Pinburgh tournament at ReplayFX in Pittsburgh. This year is going to break last year's record for the largest match play tournament, with 700 players competing, including a bunch of TOPL players.